Product detail
Technical details
Width

209 cm

Depth

95 cm

Height

75 cm

Seat height

40 cm

Legs

steel chrome/black

Material

fabric

Shell/armrests

upholstered

Adujstment

sofa bed

Seat

cold foam

Bed

77/143x200 cm

Removable covers

yes
This is a young, uncomplicated sofa bed with a casual feeling for sitting, chilling and sleeping. The sofa exudes a casual elegance with its pure fabric-covered steel armrests and the many back cushions with pointed seams. The fabric-covered steel armrests give it its identity and uniqueness. The seat depth of the MADISON sofa invites you to lounge and chill. The pillows, which can be freely arranged, are sometimes used as an armrest, for lumbar support or as a backrest, and there is plenty of space for your personal favorite pillow too. The upper seat cushion can easily be folded forward, and the bed is created.
GOOD DESIGN Award 2018
Muller & Wulff
In 2001, German designers Thomas Müller and Jörg Wulff established their design studio Müller & Wulff in Berlin, Germany. Müller attended the Academy of Fine Arts and the Royal College of Art in London, while Wulff attended Poole College of Art and Design and the Hochschule für Gestaltung in Berlin. Thomas Müller and Jörg Wulff design products with the user in mind and focus on functionality, as well as comfort. Müller & Wulff's series of sofas for Softline radiate sophisticated minimalism.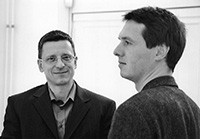 Brand description
SOFTLINE has come a long way since we started making furniture in 1979. We have become an international brand by creating innovative, iconic and high-quality furniture, and our modern, colourful designs can be found all over the world. But one thing hasn't changed: all our modern upholstered furniture is still made in Denmark at our own factory.